Dickie Brennan's
Marinated Filet Mignon
Directions
Make two slits in each filet, about 3" long and not quite to the underside. Stuff these with slices of mushroom, bacon pieces and salt and pepper.

Make marinade in a 9" x 9" x 3" pan or dish by combining the peppercorns, bay leaves, allspice, cloves, brandy, burgundy and vegetable oil. Place prepared filets in this mixture and refrigerate for 24 hours or more.

Remove and drain filets, when ready to cook. Grill according to taste, rare, medium or well done.

To make a sauce to cover meat, melt the butter in a small saucepan. Stir in flour and brown. Blend in until smooth, the beef stock and marinade. Stir in mushrooms and heat through.

Pour sauce over filets. Decorate with parsley and onion rings.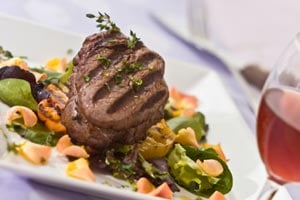 Ingredients
4 filets mignon (14 ounce size)
6 mushrooms, sliced
2 slices bacon, quartered
salt and pepper

Marinade
1 teaspoon crushed black peppercorns
3 bay leaves
1/2 teaspoon allspice
5 each cloves
1 cup brandy
1 cup Burgundy wine
1 cup vegetable oil

Sauce
1/2 cup butter
3 tablespoons flour
2 cups beef stock
1 cup marinade
16 whole mushrooms
Nutrition
1594 calories, 133 grams fat, 7 grams carbohydrates, 73 grams protein per serving. This recipe is low in carbs.